Basic Carving Workshop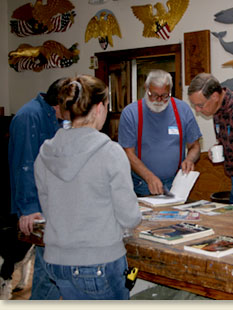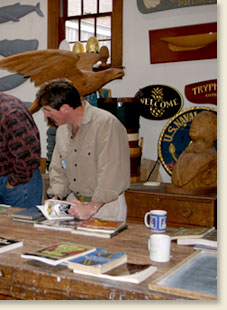 Download our Basic Carving Workshop registration form here in pdf format.

Paul White Woodcarving offers a unique and practical introduction to woodcarving, with small classes of 5 or 6 students so that each person may receive the individual attention needed to enhance every skill level. Students will learn fundamental skills which will enable them to carve not only letters, as for a sign, but also any piece of carved work.
This two-day workshop evolved as a result of the experience Paul White has gained over a span of 49 years in an active and successful woodcarving shop. The workshops are useful to beginning woodcarvers, to those who have a love of woodcarving and wish to put that interest to practical use, or to the sign-maker who wishes to add carved signs to his or her shop. Those already involved in some form of woodcarving can benefit from the classes by expanding their knowledge while enhancing their skills.
The workshops are two very full days - beginning at 8:00am and continuing until 5:00pm or longer. We stop for lunch but usually we eat right in the studio so we can continue working. There is, however, ample time for questions and explanations, and a spirited and involved atmosphere is encouraged, rather than a regimented program. The small class is critical so that each individual can receive personal attention where she/he needs it most. The format also allows each individual to progress at his/her own rate, and to be able to understand what they are doing as they are actually doing it, thereby reinforcing and retaining the knowledge. The work for each person is geared to that person's skill level and learning needs.
During the course of each workshop, we will cover a number of important topics beyond the carving such as:
sharpening
wood technology
lamination
finishing
gilding
estimating
how to run a woodcarving business.
Most of the topics covered in the workshop involve "hands-on" activity, and each student is encouraged to participate fully. Students are thereby involved in all phases of learning, and everyone is encouraged to bring and ask as many questions as possible.
The workshop will be held in a working woodcarving studio which is fully equipped and actively involved in the carving business. All necessary tools and materials are provided, but students should bring your own carving tools if you have them. A notebook will be helpful for sketching, taking notes, and detailing important techniques.
For students who do not own woodcarving tools, but who wish to purchase them, a basic set is available for $425.00. A Paul White custom set is also available for $600.00.
The cost of the two-day workshop is $600.00, which includes all carving materials, handouts, and luncheon meals for both days. Because the classes are small, early registration is advised. To insure registration, send a $300.00 deposit along with a completed application form. We will confirm the reservation and date upon receipt of the deposit. The deposit is subject to forfeiture if a student cancels within 30 days of the reservation date. In the event we are forced to cancel the course, the deposit will be assigned to the next available course or returned upon your request. The remaining $300 tuition is due at the beginning of the workshop.
The Paul White Woodcarving studio is located in historic Sandwich, Massachusetts -- a picturesque Cape Cod town known for its dedication to quality and encouragement of fine craftsmanship. Numerous motels and inns are available for housing, and a list will be provided with reservation confirmation.