Eagle Blanks
Thank you for your interest in purchasing an eagle blank.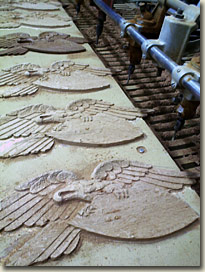 An eagle blank is a machine-routed model created from a master which is hand-carved in our shop. The blank provides the rough lines, depths and enough detail to complete the carving of the eagle blank to perfection. Our eagle blanks significantly reduce much of the tedious carving a completed eagle requires yet result in a 'hand-made' heirloom piece.
Eagle blank models are available in mahogany and either pine or basswood and are laminated using the West Epoxy System. Some of the blanks available include original Paul White Woodcarving designs, but most are in the Early American style.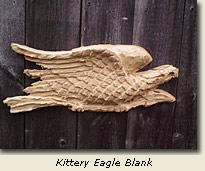 Once the final carving has been completed and the blank's fine detail has been added, the eagle blank - now a completely carved unfinished eagle - is ready for finish. We recommend the traditional method, which comprises multiple coats of exterior paint and gold leafing.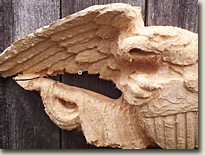 Some eagle blanks contain multiple pieces which vary, depending upon size and style ordered, and will require some assemblage