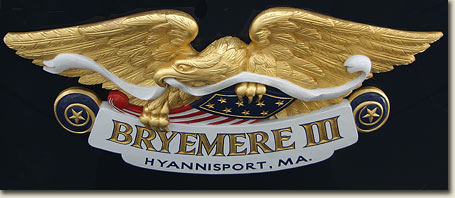 A carved eagle from Paul White Woodcarving is the result of a long proven successful process, from the designing stage to the delivery. We get inspiration from existing designs that belong to the 300 year-old North American tradition of wood carved eagles and either replicate or interpret them, or just create our own. Popular sizes range from 1 to 6 feet in width, usually determined by the space the eagle has to fill.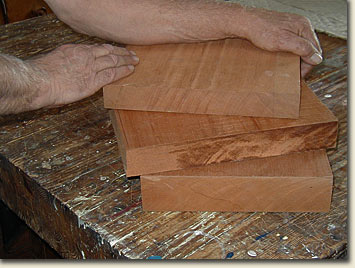 We only use the best selections of wood available, including Northeastern Pine, Bass Wood and Mahogany; we also have used Walnut, Cherry and even on occasion synthetic material. We laminate wood using West Epoxy System, then cut out the shape with a band saw and rough it in with power tools. After that, the eagle is completely carved and finished with hand tools. The shaping process ranges from around 10 or 15 to 50-60 hours according to the size.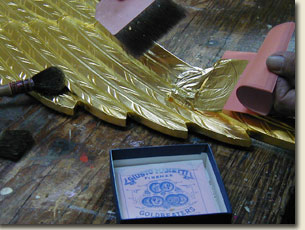 After thorough sanding (and soaking-in of preservative for soft woods), the eagle gets 2 coats of primer and a first coat of base color, then we finish it in the traditional style with 23-karat gold leaf and exterior oil-based low luster colors from a historically accurate palette. This paint system has proven its excellent life expectancy over our 40 years of experience. Pure gold will not oxidize and the process of gilding is equivalent to sheathing the sculpture with a solid coat of metal rather than just decorating, so it will last for at least 30 years.
Special Orders
We are regularly commissioned to create "custom" eagles - as opposed to "standard" eagles, which are the ones you can see in our galleries and are the most popular combinations of dimensions and colors. Specific requests include but are not restricted to changing colors, wings or head direction, all the way to a complete custom design. Any change that we may bring to an eagle as seen in the galleries makes it a custom order, and is billed accordingly. The only exception is the lettering on banners, which is left up to your creativity for no extra cost.
For more details about the making of our eagles, please see "Carving the American Eagle"
---
Availability
"Standard" eagles may be available for purchase within 10 days or less, but most custom orders will take a minimum of 8 weeks before delivery.
Shipping
Shipping is a common procedure - we have shipped eagles as far as Alaska or Europe. Please note that weight varies considerably according to size and wood species. Small and medium eagles are usually shipped in carton boxes whereas larger ones require crating and freight transportation.
Maintenance
We pick the best materials and use long-proved methods for our eagles so that they have a long life expectancy. However, wood will always shrink and swell and over time the paint may crack open. We recommend that they be checked at least once a year for any signs if unusual wear, damages and openings.