Eagle Carving Course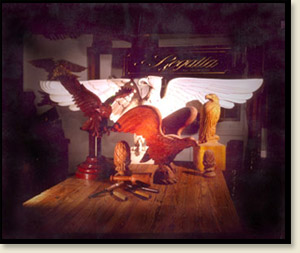 Master Woodcarver, Paul White, holds a 3-day intensive eagle-carving course in the fall each year. Come take this carving course and learn by carving a magnificent 36" x 12" American eagle.
Each carver attending the course will learn about the history of eagle carving, as well as information on design, layout, gluing up, wood technology, roughing out, carving with hand tools, carving with power tools, and finishing. Working on your own eagle, a Paul White original design, you will also receive personalized hands-on training in design, roughing in, carving, finishing, and gilding with 23k gold. The knowledge you gain, along with the hands on training, will enable you to easily finish your eagle at home. You will also be prepared to continue carving eagles on your own, if you wish.
The next Eagle Carving Course is usually held in the Fall of each year in the Paul White Woodcarving shop, located in historic Sandwich, Massachusetts, just one hour south of Boston, and one hour southeast of Providence, RI. It runs for 3 days (Friday to Sunday) from 8:00am to 5:00pm or longer. Paul White Woodcarving will supply you with a roughed in eagle blank, and will have for your use all the hand tools and power tools needed to carve the eagle. In addition, at the time of the course, carving tools and 23-karat gold leaf may be purchased from Paul White Woodcarving to take home. The cost for the course is $1400.00, which includes tuition, the eagle blank, refreshments, and lunches. A non-refundable deposit of $700.00 will hold your place in the class. The balance of $700.00 is due at the beginning of the course. Space in the class is limited to 8 students, so early registration is advised.
Download our Eagle Course registration form here in pdf format.